April 12, 2022 — TrueGage announced today the release of TrueMap® 6, a major new version of the company's software platform for surface imaging and analysis.
With version 6 comes a fully redesigned version of TrueMap® software. This latest version of the software is fully 64-bit and contains multi-threaded algorithms to greatly improve performance, a redesigned user interface, and a long list of new capabilities.
Users of 2D and 3D contact and non-contact profilometers, white light interferometers, confocal microscopes, and laser triangulation sensors, working in a wide range of application fields, will discover a wealth of new capabilities for their image and surface analysis. These new surface data visualization tools help customers more easily extract meaning out of the data they collect.
"With the new version 6, TrueGage notably extends the TrueMap® platform in its data visualization and data analysis capabilities. TrueMap supports over 30 file formats from many OEMs as well as standardized file formats such as SDF, CSV, and X3P. The ability to invest in a single software package to analyze data coming from multiple measurement devices allows our customers to better manage surface data and its usage across their organization." said Patrick Stack, TrueGage Founder, and lead software developer.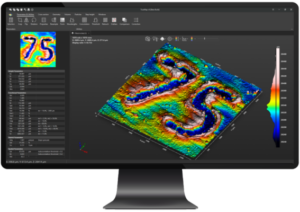 "As far as 3D data analysis is concerned, the addition of the latest ISO 25178 and ASME B46.1 surface texture parameters now brings the software current with support for the latest global standards."
"Being that TrueMap® 6 has been designed from the ground up to work with surface topography data acquired by a multitude of measurement systems, from point clouds acquired by non-contact laser scanning systems to high-end digital microscopes, to tactile sensors, we like to consider it the universal platform for all your surface metrology data."
Louie Carpentier, Senior Topography Specialist at 3DProfiler.com, described his experience with TrueMap: "We use TrueMap® daily for custom analysis and report generation on a wide variety of applications from roughness and waviness of micro polished substrates to characterizing texture on items such as biological tissue and embossed products. TrueGage software allows us to seamlessly upload and analyze data from our measurement systems to give our customers metrics to judge and control their processes."
For more information or to download the 14-day trial, please visit,  www.truegage.com
About TrueGage
TrueGage is an American software company founded in 2004 providing off-the-shelf and custom software solutions for the surface metrology industry.  TrueMap application areas include manufacturing, automotive, aerospace, MEMs, medical, renewable energy, etc.
Media Contact

Patrick Stack
+1.724.575.7900
pats@truegage.com